Latest News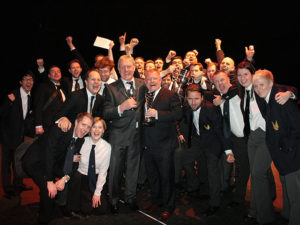 This is will be the fourteenth time the band have taken home the regionals trophy, leading them on to play in the National Finals in the Royal Albert Hall later this year. It is a great step forward for the band to win the regionals again (the last time being 2001), and a streak that we will fully aim to continue! The full performance can be heard below.
The full results were:
Championship Section:
Test Piece: 'St Magnus' – Kenneth Downie
Adjudicators: Jim Davies & Barry Thompson
1. Fairey (Garry Cutt)*
2. Foden's (Allan Withington)*
3. Co-operative Funeralcare North West (Jef Sparkes)
4. Milnrow (Mareika Gray)
5. Blackburn & Darwen (Huw Thomas)
6. Leyland (Michael Bach)
7. Pemberton Old Wigan DW (Stig Maersk)
8. Rainford (Gareth Brindle)
9. Wingates (Paul Andrews)
10. Wardle Anderson Brass (Steven Walsh)
Percussion Award: Fairey
* Top 2 bands qualify for National Final
Recording:
"This has just enhanced a terrific work ethic and team spirit that I've not witnessed in banding for a long time"

Gary Cutt
Needless to say the band are delighted with the result. Sympathy goes out to our Solo Baritone player who was so overcome with paroxysms of joy that she managed to dislocate her foot upon exiting the band bus.